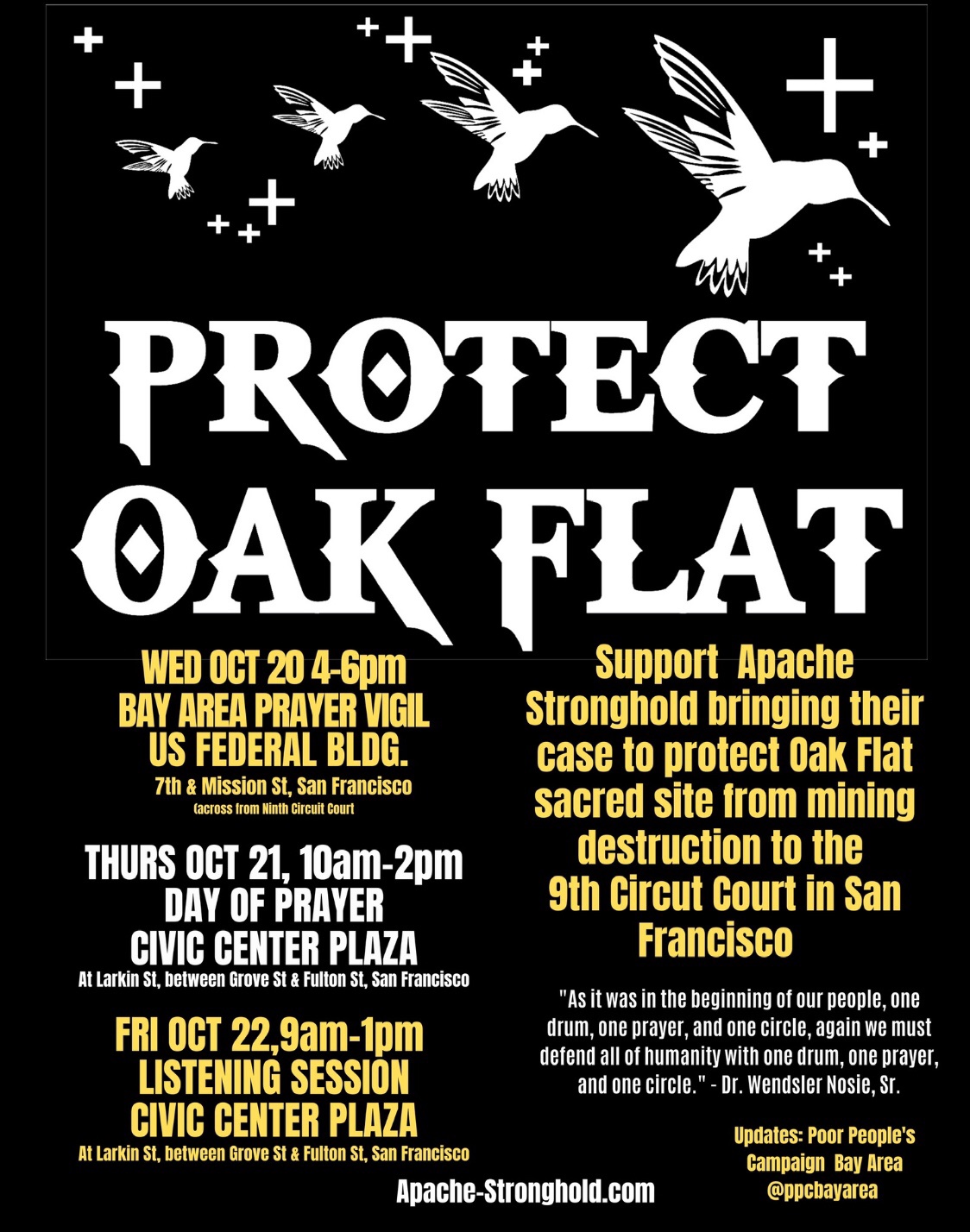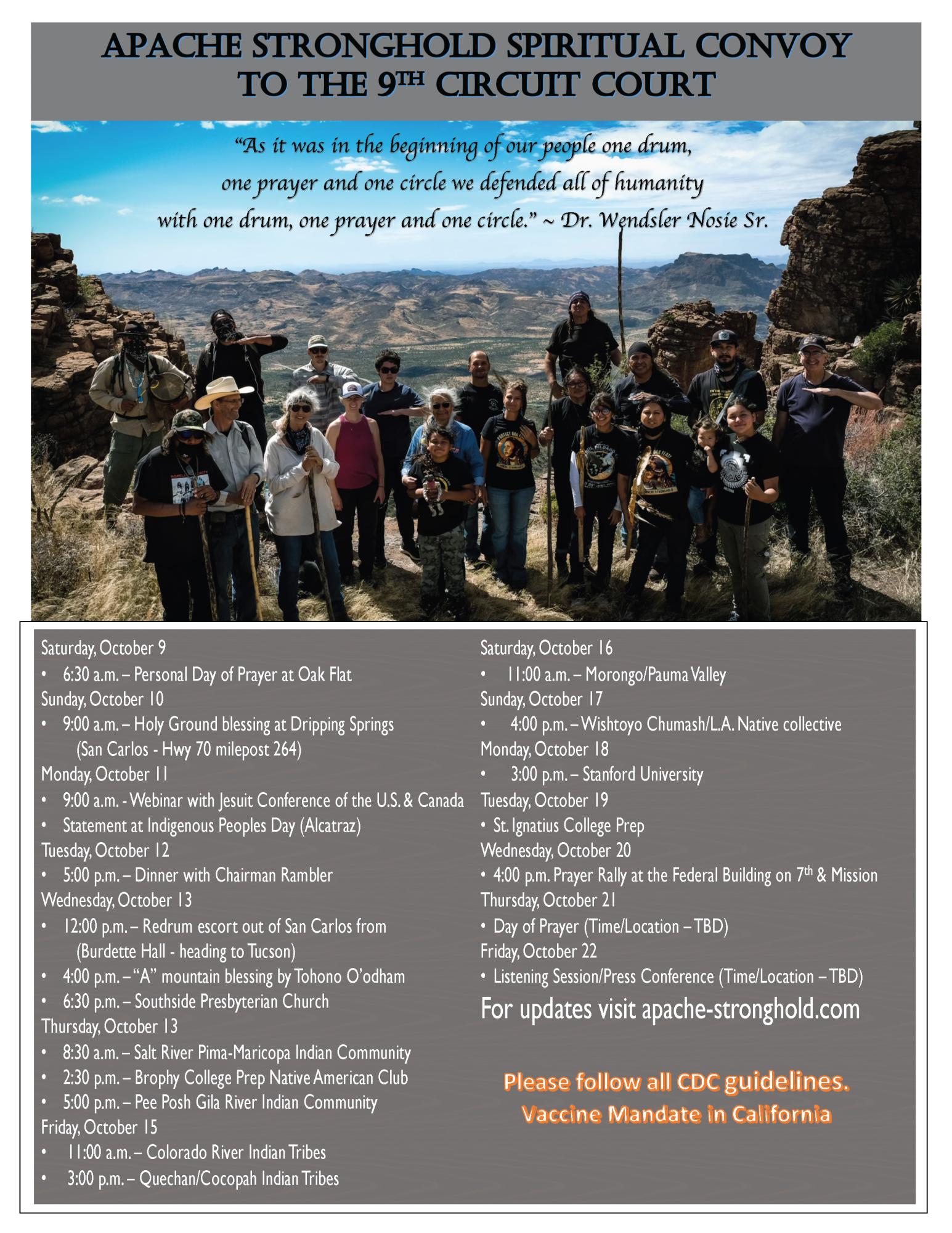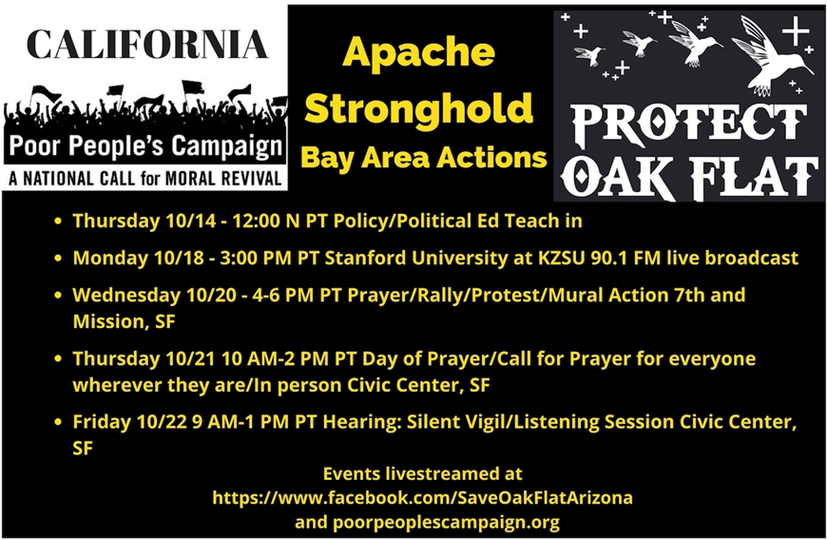 Apache Stronghold Spiritual Convoy to the 9th Circuit Court

October 9 – 22, 2021 -

Please follow all CDC Guidelines. Vaccine mandate in California.
Please c

heck

back for upda

tes.

Download Convoy Flyer
(

Last

updated

10/09/21)
"As it was in the beginning of our people one drum, one prayer, and one circle again
we must defend all of humanity with one drum, one prayer and one circle." ~Dr. Wendsler Nosie Sr.
As the fight continues to protect Oak Flat and our religion the 9th Circut Court has scheduled our court hearing for October 22, 2021. The Apache Stronghold Spiritual Convoy to the 9th Circuit Court is underway.
The convoy, in prayer, will visit supporting Tribes leading to the 9th Circuit Court hearing to protect a Sacred and Holy land that God has blessed the World with Deities, Oak Flat. It is the United States intention to exchange the land to Rio Tinto & BHP's Resolution Copper for mining. All are welcome. If you know people along their route, help spread the word for other stops. | October 28, 2021 Apache-Stronghold News Release Please continue to Pray for Oak Flat and pray for the court to make the right decision to protect our holy place and acknowledge our religion so our future generations have the right to pray and believe in the blessed gift creator has given us all our Mother Earth.
|
Please join the Apache Stronghold and people of all faiths from around the world for a day of prayer on Thursday, October 21, 2021.
Ways to Stay Engaged During the Spiritual Convoy
|
|


Thursday October 21, 10 am-2 pm Day of Prayer
Civic Center Plaza (at Larkin St between Grove and Fulton, San Francisco)


|


Friday October 22nd, 9 am-1 pm, Listening Session,
Civic Center Plaza between Grove and Fulton, San Francisco)
Watch PPC Livestreams here: https://www.poorpeoplescampaign.org/livestream/

Support Apache Stronghold bringing their case to protect Oak Flat Sacred Site from mining destruction to the Ninth Circuit Court in San Francisco.
|
Videos, Livestreams & Broadcasts
Watch Apache Stronghold Spiritual Convoy Music Montage Videos by Indigenize Nations (YouTube)
|
|
10/14/2021 |The California Poor People's Campaign Urgent Teach in on Apache Stronghold/Oakflat fight Zoom Event | The program, hosted by CaliPPC's Policy and Education Working Group, includes a video screening and presentations from members of the Stronghold. The teach-in gives information about what can be done to lend support to the Stronghold.
---
|
Apache Stronghold Merchandise
Apache Stronghold Spiritual Convoy t-shirt and other Apache Stronghold merchandise is available for purchase from the TAKE ACTION page. Proceeds from selling these products will go toward the on-going campaign to save Oak Flat led by the San Carlos Apache and other indigenous organizers.