PLEASE TAKE ACTION NOW!
Follow the SAVE OAK FLAT bills in the 116th (2019-2020) Congress To repeal section 3003 of the Carl Levin and Howard P. "Buck" McKeon National Defense Authorization Act for Fiscal Year 2015.
---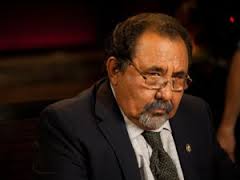 HISTORY OF THE "SAVE OAK FLAT ACT"
"Save Oak Flat Act" will Reverse Backroom Deal that Threatens Apache Religion and Sacred Areas
On Wednesday, June 17, 2015, Rep. Raul Grijalva with 14 bipartisan co-sponsors introduced the "Save Oak Flat Act". The bill would repeal Section 3003 of the FY15 National Defense Authorization Act (NDAA), which approved the Southeast Arizona Land Exchange.
Chairman Terry Rambler praised the bill's introduction. Rambler stated, "I applaud Congressman Grijalva and the co-sponsors of the Save Oak Flat Act. They are true champions of Indian Country and justice for the American taxpayer. The Save Oak Flat Act directly responds to the deception that was used to approve the Land Exchange through an eleventh hour rider. That process directly ignored the will of the people and exemplifies everything wrong with Congress." View original article
One of the lawmakers involved in the fight to save Oak Flat, Rep. Raúl Grijalva (D-AZ), introduced the first "Save Oak Flat Act" in June 2015 to protect the sacred grounds from mining.

Grijalva's 2015 bill reads:
"As a result of previous Federal land policies that resulted in the significant loss of lands of American Indian tribes, many sacred areas of tribes are now located on Federal lands. The United States has a trust responsibility acknowledged by Congress to protect tribal sacred areas on Federal lands. [The deal] sets dangerous legislative precedent for the lack of protection of tribal sacred areas located on Federal lands … [and] will require significant amounts of water that will likely affect the local hydrology, including the underlying aquifer, and will result in polluted water that will seep into drinking water supplies."
Background on Oak Flat
Oak Flat is an area about an hour east of Phoenix that is a sacred site known to Apaches as Chi'Chil'Bildagoteel. Home to a diverse desert ecosystem, it's also currently federal land within the Tonto National Forest.

In December 2014, Arizona Sens. McCain and Flake attached a land-exchange rider to the National Defense Authorization Act. The bill included the Oak Flat land exchange and gave multinational mining company Resolution Copper the area to build one of the world's largest copper mines.

The mine is slated to permanently decimate Oak Flat and surrounding desert features. Apache and mining-reform activists had been successfully fighting the proposal for nearly a decade before this "backroom deal" was made in Congress. Currently the Forest Service is undertaking an environmental impact statement, a legally mandated assessment that must be completed before the land exchange is finalized.
Arizona Rep. Raul Grijalva