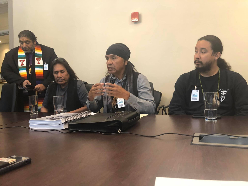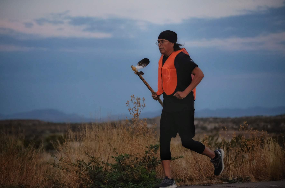 Read entire letter to US Forest Service (PDF; 113 KB)
Wendsler Nosie Sr. hand-delivers letter to United States Forest Service in Washington D.C. to serve as notice that he is going home for his people to Chi'chil Bildagoteel (Oak Flat) and will establish permanent residence to protect the Apache Sacred site and religious freedom. Excerpt from letter below:
---
I, Wendsler Nosie Sr., am writing this letter to serve as notice to the United States Forest Service and members of Congress, that I will be returning to my home, Chich'il

Bildagoteel,

Oak Flat. According to the United States Forest Service Policy, the Forest Service is to allow my presence on the land for religious purposes and provide for access to areas of religious significance. I will be taking a religious position as an Apache and going home to my ancestral homeland. This is my religious right, my indigenous right, and my inherent right to return home to protect it from being murdered and protect our future generations, those yet to be born, so they have a right to their identity and religious beliefs. It is going to take religious education for this country to realize what it happening to the Earth. A murder is going to take place on a living being and on a religion if nothing is done by our Congressional leaders to protect our Holy Places to stop this murder by Resolution Copper. The country will then witness what a murder is and those who are responsible for killing the Earth, the Water and a Religion. The United States Government continues to ignore the indigenous people's religion and the deceit of how America was founded.
---
Please contact your congressional people. Ask them to cosign and support the Save Oak Flat Act. Visit the TAKE ACTION page for more information and other ways you can help repeal the Southeastern Arizona Land Exchange and Conservation Act and support Wendsler Nosie Sr. and the Apache Stronghold in the 15-year battle to protect Sacred Chi'chil Bildagoteel (Oak Flat) and Apache freedom of religion.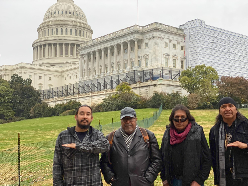 As Christian ministers who are committed to the freedom of religion for all people, we call on all people of faith to stand with Wendsler Nosie Sr. and the Apache Stronghold before it is too late. To preach the resurrection of Jesus is to proclaim that no one and no one's tradition must be crucified for the greater good. We can protect the waters, protect Oak Flat, and still have enough resources for every family in this land to flourish. The history of terrible violence this nation has committed against indigenous people from the Trail of Tears to Standing Rock is a reminder that the apocalypse Nosie goes home to face is a real possibility. But it is not a necessity. We pray Americans will act to show genuine gratitude for the original stewards of this land and their religious freedom. We join our brother, Wendsler Nosie, in the call to save Oak Flat and in his journey as he goes home to Oak Flat. -Rev. Dr. William Barber II and Rev. Liz Theoharis
Wendsler Nosie: "Rightfully Ours" - Watch Now "Our voices as NativeAmericans have been quiet since the 1400's. Today brings us our voice back into this country that is rightfully ours."
Wendsler will depart from the San Carlos Apache Reservation in the morning on Thanksgiving Day, Thursday, November 28, 2019 with planned arrival at the Oak Flat Campground on Saturday, November 30th, 1:00 p.m. All people are welcome to join him on his 45-mile, spiritual journey home, on foot, to protect Apache Holy site, Chi'chil Bildagoteel. His intention is to stay, guarding the sacred site from those who seek to harm his religious right to be there. Indigenous peoples have been leading the fight to stop the transfer of land to a foreign company and the proposed Resolution Copper mine.

Spiritual leaders from around the country are coming to join Wendsler on this path, in solidarity. Reverands Dr. William Barber II, John Mendez and a delegation of the Poor People's Campaign will be there in prayer and support. He hopes to arrive at Oak Flat on Saturday, November 30, 2019. All are welcome to join in spiritual support as he makes this return home. Please send prayers to Wendsler and his whole family. If you are a journalist or with a media outlet, please contact Vanessa Nosie (vnosie11@gmail.com) to schedule an interview.
---
Wendsler arrived home to Chi'chil Bildagoteel safely. Wendsler has returned home to his ancestral homelands to live and to protect Chi'chil Bildagoteel, an Apache Holy site, through ceremony and prayer. A Welcoming Home Blessing will be held at Oak Flat on December 13-14, 2019. See image below for more details.
Watch Wendsler Nosie Sr. inform Neil Bosworth, supervisor of the Tonto National Forest, that he is going home for his people.
Watch on YouTube